A RESTAURANT 
You would like to add PIZZA to you menu with a minimal investment: you can use pre-made sauces, add your own ingredients and ideas, and cook your pizzas in less than two minutes. You can easily serve 20 pizzas during every shift, and even double that number if you use a stackable QUICKPIZZ.
A PIZZERIA
You want to serve PIZZAS outside of your usual rush hour: you can turn on your traditional oven to save important amounts of energy, and keep cooking pizzas without help from a specialised pizza baker.
A SANDWICH BOOTH
You want to sell PIZZAS alongside your usual oer: you can make classic PIZZAS with cooked pre-made ingredients, or create a pizza-sandwich – "Le PIZZ" – thanks to our patented method.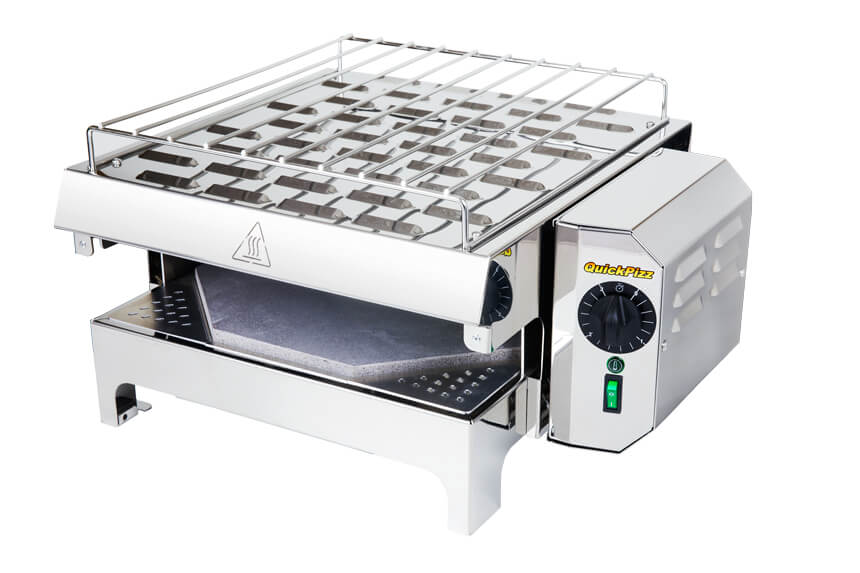 Presentation
QUICKPIZZ QP-340 PATENTED allows you to cook thin-dough products, such as pizzas in 90 to 150 seconds depending on the recipe with a minimal energy use.
SIZE :
The QUICKPIZZ dimensions are 498 x 401 x 278 mm, with a weight of 12,4 kg which allows it to be set up on a small worktop, it works with a 230V / 50 hertz 16 A socket, and needs no special ventilation.
EASE OF USE :
After it is plugged, the hearth needs only 15 minutes to reach a temperature of 300°. You, then, only need to set the timer according to the chosen recipe (between 90 to 150 seconds) to start cooking.
COOKING QUALITY :
The QUICKPIZZ ensures an exceptionnal quality of cooking for all products, whether they are raw, fresh or frozen. The crust is always crispy and tasty !
ENERGY SAVINGS :
Our patented technology allows for unmatched energy savings (see used only during the actual cooking process the table below). Electricity is only used during the actual cooking process.
Supply voltage:
AC 220 – 240V 50 / 60 Hz
Power:
Sole heater : 1900W
Cooking mode : 2785W
Protection index:
IPX3
Weight:
12.4 Kg
Dimensions:
498 x 401 x 278 mm
Dimensions with safety pin:
498 x 553 x 278 mm